Discussion Starter
·
#1
·
The kind of thing you just hate to post. This has been a rough yr here kidding wise. This is a new one on me... until now I have been very blessed with my kiddings... sure I had a couple mal-presentations that caused me some stress, but nothing major. And no kids lost at birth except the last 2 last yr and I think mom was just bred too young maybe...
This yr has been very very different. The kinda year you hesitate to post about.
Let's see if I can get all the facts down
#1 Ginger -
2006 kidded a single buck no problem
2007 cloudburst
2008 kidded #1 unattended... buckling dead when I got there, hair, but no teeth, went in to check and found *bones*
#2 Cinnamon -
2006 twin bucks no trouble
2007 twin does no trouble
2008 triplet does... mild malpresentations... all fine
#3 Gypsy -
2005 twin does mild malpresentation
2006 2 does/1 buck mild malpresentation
2007 twin bucks missed the birth
2008 twin does... 1 died during birth due to my handling... was not proactive when I should have been...
#4 Butterscotch -
2007 buck/doe no problems
2008 my first train wreck... 2 heads & 2 legs... called Vickie, first out was a live doe with a severe facial deformity, next out was a live healthy normal buck... I put the doe down. Basically she had NO upper jaw. Her nose was JUST below her eyes, lower jaw & tongue present. I did not think at the time to take a picture. This was the first kid I had to put down and I was a bit shaken up.
#5 Dolce -
2007 buck/doe no problems
2008 triple bucks... #1 fine & healthy, #2 head back, dead at birth, and I am still unsure on this one.. at first I declared female... then my son said boy... and thought it had several abnormalities... on looking most of what he said was not the case... just him looking several hours after birth (eyes sunken, etc)... but on looking I saw now the scrotal sack, but no penis... I am though now second guessing myself... I should have taken him where I had better light.... so possibly no penis... possibly just dead... #3 fine & healthy oh this is a Mini Mancha and baby #1 was 7lbs... #2 was 3.5... #3 was 4lbs
#6 Aria -
2007 buck/doe no problems
2008 buck/doe no problems
#7 Coco -
2007 buck/doe no problems
2008 twin bucks..... #1 died about 15min after birth... had the same basic facial deformity as Butterscotch's...
just not nearly as severe
. #2 live, healthy, normal
Pictures below
#8 Vicki -
2005 buck/doe no problems, unattended
2006 stayed open
2007 buck/doe no problems
2008 buck/doe no problems, unattended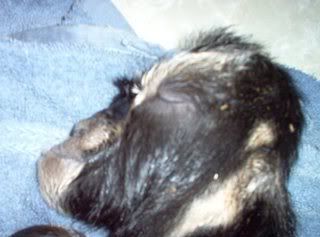 Has anyone else had malformations like this?
Did you ever discover the cause?